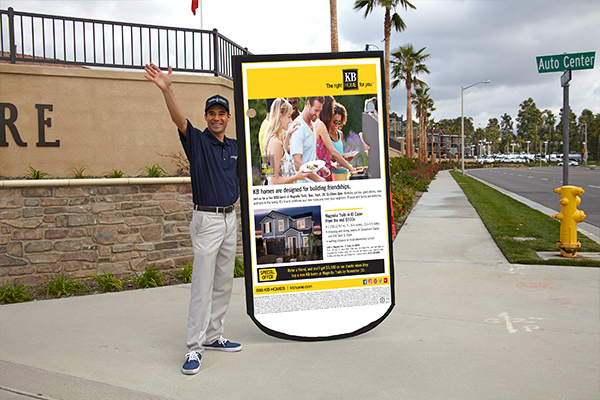 There is More to a Human Billboard Than Meets The Eye
The power of out of home advertising has always been underestimated.
However, human directionals and walking billboards are becoming more and more common.
The reason is simple: They get results. Business owners are realizing the power of sign walkers and how they can grow their business.
Human Billboard campaigns have two major advantages compared to other forms of advertising:
The First is immediate and powerful results. Human sign walkers have the ability to be placed in close proximity to the business location. This is one of the best ways to increase traffic and drive sales. The second is major benefit of human billboard advertising is the extremely low cost per impression. A human billboard, placed in a high-traffic area, can be seen by everyone in town. A great way to expose your brand to a big audience for such a low price.
Our professionally designed billboards are another one of our unique and effective outdoor marketing solutions. We put real people behind the 7-ft. billboards to make sure they're seen at eye level. And, we're able to map out the best location to drive attention to your brand. Contact us today to get started with our leading human billboard advertising.
Get a Tailored Quote for Human Billboard
Need human billboard to drive foot traffic to your business?
Enter your information and we will be in touch soon.
Get Started with Media Nation Outdoor